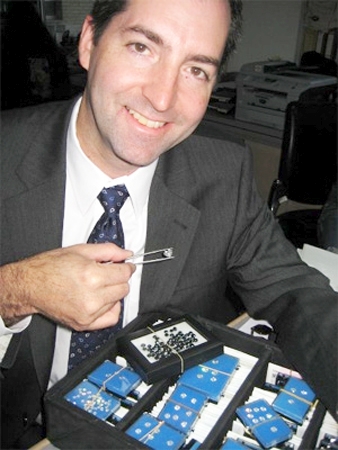 Direct Diamond Importer
Over 60% of all uncut diamonds are cut and polished in Antwerp, Belgium.  Several of my preferred customers have asked me to be thier "personal broker" and select a diamond for them to present to the one they love.  I am happy to do this for them and for you.  The enormous selection of diamonds in Antwerp is the key to this tremendous value.  I don't mind saying that I am very, very picky. Sorting through hundreds of diamonds at a single location allows me to put into practice what I have learned from 25 years of buying and selling diamonds in this business.
It's not only the cost savings that make this a unique buying experience; it's the fact that your personal jeweler is traveling over 10,000 miles to hand-select your special diamond from the largest selection of diamonds ever gathered in one place.
I would love to do this for you or someone you know who enjoys owning (or giving) a breathtaking masterpiece of nature that will become a priceless symbol of love and commitment forever at a once in a lifetime savings.  Now is the time!  Please stop in or call me to get more information on this extraordinary opportunity.
If you are considering the purchase of a diamond engagement ring, please stop by our showroom and let our diamond experts explain the differences between diamonds and what sets one apart from another.  We will walk you through the engagement ring buying process so that you will be comfortable in knowing that you have made the best possible choice in diamonds for your loved one.
Diamond Education – The 4Cs
We've talked much about the importance of diamond cut and finding a quality diamond grading report with a diamond cut grade. While we speak a lot about the science behind the diamond, there is also the matter of taste and individual perception of what makes a diamond beautiful. While not everyone will share the same opinion as to what constitutes beauty, most people do want a diamond that expresses their individual taste and personality.
Here's what you should consider before making a purchase: Diamond Cut, Diamond Color, Diamond Clarity, and Carat Weight.  These are known as the 4Cs of diamond grading.  At the AGS Laboratories, a minimum of two diamond graders assess each diamond on each of these characteristics.  This ensures that we are giving you the most accurate information on your diamond grading report.  To see a full explanation of each of the 4Cs, click on the characteristic you wish to learn more about: